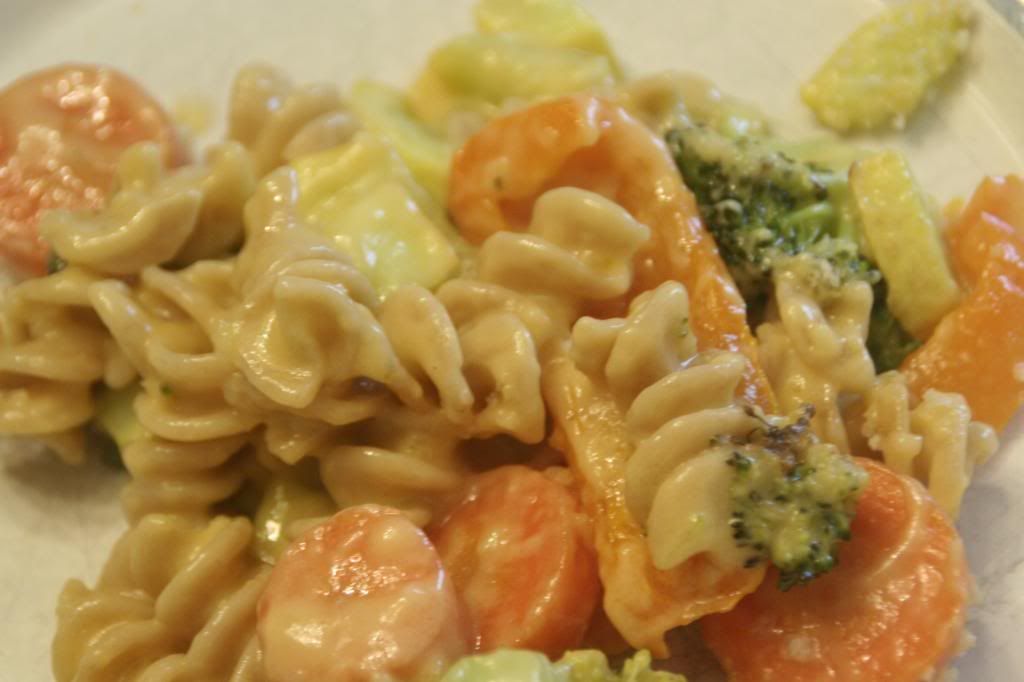 My sons are huge mac and cheese fans. In fact, a recent diner trip resulted in a slight tantrum when they did not have mac and cheese on the menu. So when I found
this recipe
that combined the deliciousness of roasted vegetables with the comfort of macaroni and cheese, I jumped on the opportunity.
It earned a "it's ok" rating from my husband, who does not like macaroni and cheese, but I enjoyed it very much. The boys had mixed reactions, between super happy to have mac and cheese to "I refuse to eat vegetables," which a quickly forced no apple until you eat some veggies fixed when he realized they were sweet and delicious.
I will admit that this made a lot of dishes, which didn't really make anyone happy, but I was really happy with the outcome and will probably double it for leftovers next time.
Roasted Vegetable Macaroni and Cheese
Adapted from
The Comfort of Cooking
Ingredients
1 cup broccoli florets, chopped into small chunks
1/2 red pepper, sliced
1 yellow squash, quartered and diced
2 carrots, sliced thinly
2 cups whole wheat pasta (elbow macaroni, rotini, penne, etc.)
1/4 cup plus 1T olive oil, divided
1 garlic clove, minced
3 Tbsp. all-purpose flour
1 1/2 cups milk
2 cups (8oz) shredded cheddar cheese
Salt and pepper, to taste
2 Tbsp. panko breadcrumbs
Directions
Preheat oven to 400 degrees F. Cook pasta according to package directions; drain and set aside. Prepare a baking sheet by either covering it with silpat or foil.
Toss veggies with 1T olive oil on the baking sheet. Bake for 20 minutes, or until vegetables have softened, stirring occasionally. Remove from oven and set aside.
Meanwhile, heat remaining oil in a large skillet over medium heat. When shimmering, add garlic and cook 30 seconds. Whisk in flour and cook 1 minute (careful it doesn't burn). Gradually whisk in milk, stirring constantly until mixture is slightly thickened. Remove from heat. Stir in cheddar cheese until well distributed and melted, then add macaroni and vegetables.
Place mixture in a large casserole dish and sprinkle with panko breadcrumbs. Place under the broiler in your oven (500 degrees) for 3-4 minutes, or until the top is golden brown.
Dig in!