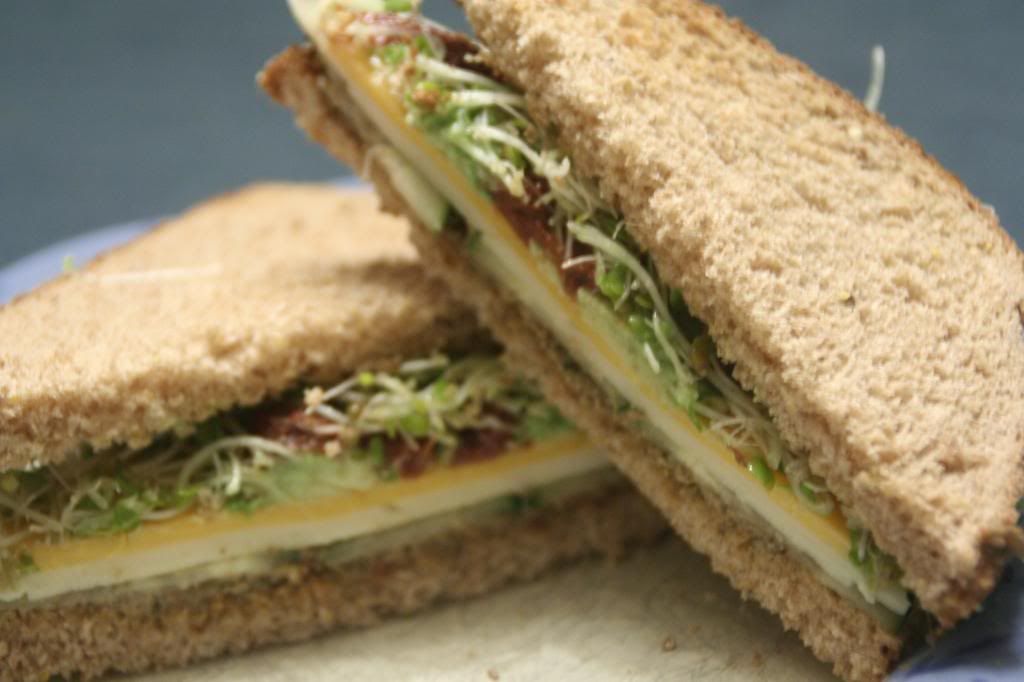 I'm not sure how I stumbled upon this recipe, which was shared by the
#SundaySupper
group, but it also introduced me to the book from which the recipe came, Emeril's
Kicked Up Sandwiches.
This was so stinking delicious, and I just could not believe that my children and husband were eating sprouts. Willingly.
This was such a delicious lunch, and while we had it on a weekend afternoon, it's fast enough to put together that it would be great in a brown bag lunch at work too (or lunchbox for those sprout eaters I mentioned).
Three Cheese Veggie Sandwich
Source: Emeril's
Kicked Up Sandwiches via
Cindy's Recipes
INGREDIENTS
8 slices seeded or multigrain bread(see page 301)toasted
1 cup Sun-Dried Tomato and Walnut Pesto (page 320)
1/2 cucumber sliced into 1/8-inch rounds
Salt and freshly ground black pepper,for seasoning
4 slices provolone cheese
4 slices cheddar
4 slices Swiss
1/2 avocado, thinly sliced
1/2 cup thinly sliced sun-dried tomatoes
1 cup alfalfa or green leaf sprouts
1 teaspoon olive oil
1. Arrange the toast slices in a single layer on a work surface. Spread 2 Tablespoons of the Sun-Dried Tomato and Walnut Pesto on each slice of bread. On 4 of the slices, arrange the cucumber in a single layer, covering as much of the bread as possible, and season with just a pinch of salt and pepper. Place a slice each of provolone, cheddar and Swiss cheese on top of the cucumber. Divide the avocado slices evenly among the sandwiches and season with salt and pepper. Spread 2 Tablespoons of the sun-dried tomatoes evenly over the avocado.
2. In a small mixing bowl, toss the spouts with the olive oil and a pinch of salt and pepper. Spread 1/4 cup of the sprouts over the tomatoes on each sandwich. Complete the sandwiches with the remaining slices of toast.
Sun-dried Tomato and Walnut Pesto
Ingredients
1/2 cup walnut halves or pieces, toasted
1 teaspoon minced garlic
1/2 cup fresh basil leaves
1/4 cup parsley leaves
1/4 cup whole sun-dried tomatoes
1/4 cup finely grated Parmigiano-Reggiano cheese
1/2 teaspoon salt
1/4 teaspoon freshly ground black pepper
Finely grated zest of lemon
1 teaspoon freshly squeezed lemon juice
1 Tablespoon balsamic vinegar
1/2 cup extra-virgin olive oil
Place the walnuts in a food processor and pulse until they are thoroughly chopped. Add the garlic, basil, parsley, sun-dried tomatoes, Parmesan, salt, pepper, lemon zest, lemon juice, and balsamic vinegar. Pulse for a few seconds. With the machine running, add oil in a steady stream to combine. Transfer the pesto to a serving bowl and use immediately, or cover and refrigerate for up to 1 week, or store in the freezer for 3 months.