It's been a really long time since I've posted one of these. For me, this is a great way to keep track of my recipes. My meal planning works like this... on Friday (if possible; sometimes it's very early on Saturday morning) I plan out the meals for the week. For the past several weeks, breakfasts and lunches have pretty much stayed the same because I've been on a streak of planning stuff that was way too complicated for how I'm feeling after finally getting the boys to bed.
So I use this whiteboard meal planner I got from some freebie sample: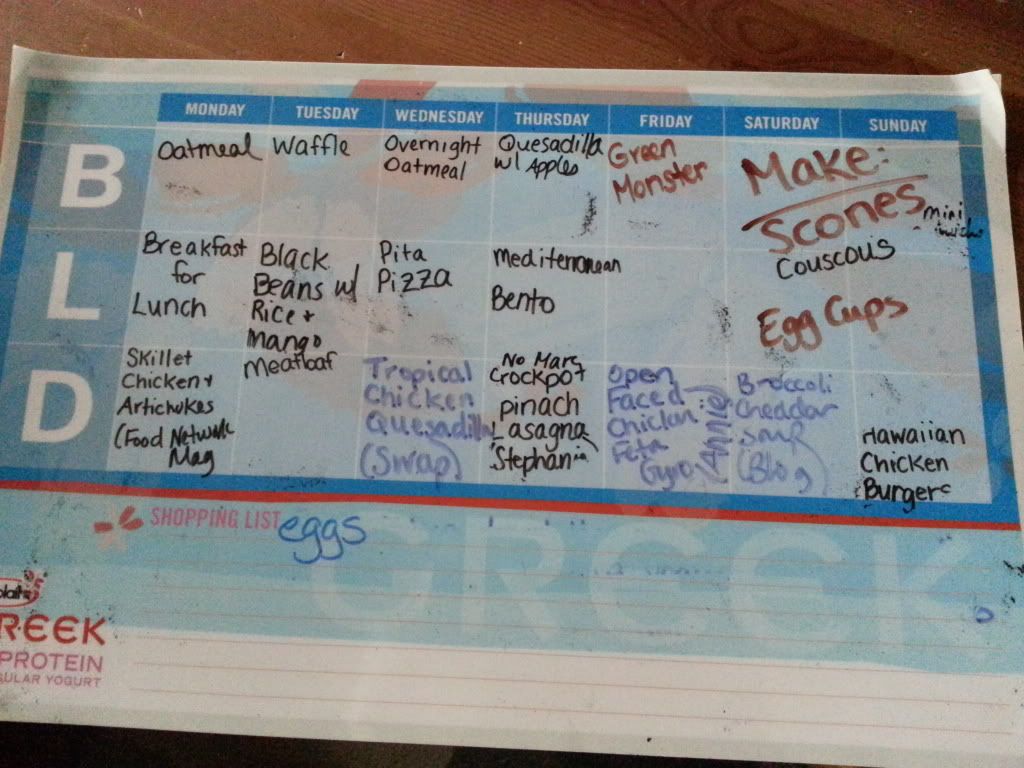 It works really well because I've trained myself to add the ingredients necessary to the lines at the bottom and have trained my husband to add whatever he wants or needs or runs out of there as well.
So I plan my meals here then transfer to a grocery list piece of paper (I've tried using apps on my phone to do this, but have not had success. I find I don't have it organized right and either end up forgetting to get something or having to traipse back and forth in the store. This works great, though, for quick trips to the store).
As you can see, I try to identify the source from which the recipe came to make finding it easier. But I also like to keep it here on the blog because it doesn't get lost (there's been more than one time that the dry erase has BEEN erased!), it makes an easy click, and is much easier if my husband is in charge of cooking dinner than finding the recipe while I am out and away from the board.
So, here's what the plan is for this week:
Monday:
Skillet Chicken and Artichokes
Tuesday:
Meatloaf
Wednesday:
Tropical Chicken Quesadillas
Thursday:
Crockpot Spinach Lasagna
Friday:
Open Faced Chicken Gyro
Saturday:
Broccoli Cheddar Soup
Sunday:
Hawaiian Chicken Burgers
Have a great week!