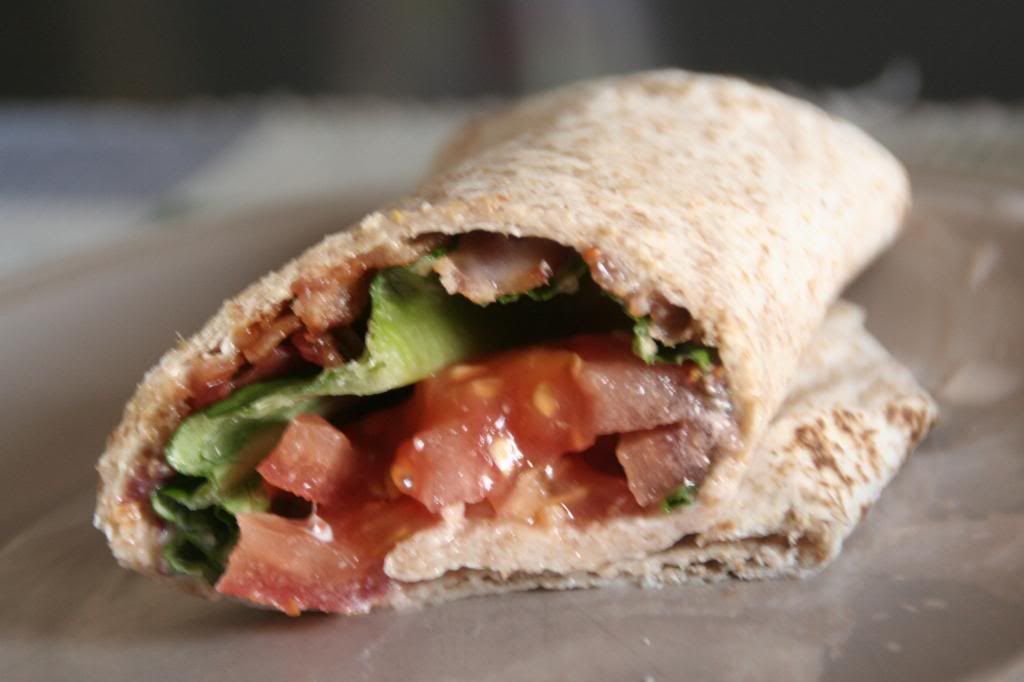 This one was made by my husband, and it was a lovely and delicious lunch. It also seems like an easy one to put together (after you cook the bacon, of course... definitely do it in the oven if you've never tried it that way!)
Instead of mayo like a typical BLT, the recipe uses a homemade honey mustard, which was an AMAZING choice. I don't know if I'll ever have mayo on a BLT again! I also like the choice of it as a wrap instead of white bread.
BLT Wraps
by
Paula Deen
Ingredients

2 teaspoons honey
2 teaspoons Dijon mustard
4 tablespoons mayonnaise
4 (10-inch) flour tortillas
8 slices bacon, cooked crisp
8 green leaf lettuce leaves
8 slices tomato
Extra-virgin olive oil
Salt and freshly ground black pepper

Directions

Make the sauce by combining the honey, mustard, and mayonnaise in a small bowl. Spread evenly on the tortillas. Evenly divide bacon, lettuce leaves, and tomato over each. Drizzle each with olive oil then season with salt and pepper, to taste. Roll up and secure with a toothpick. Cut in half on the bias.
Enjoy!