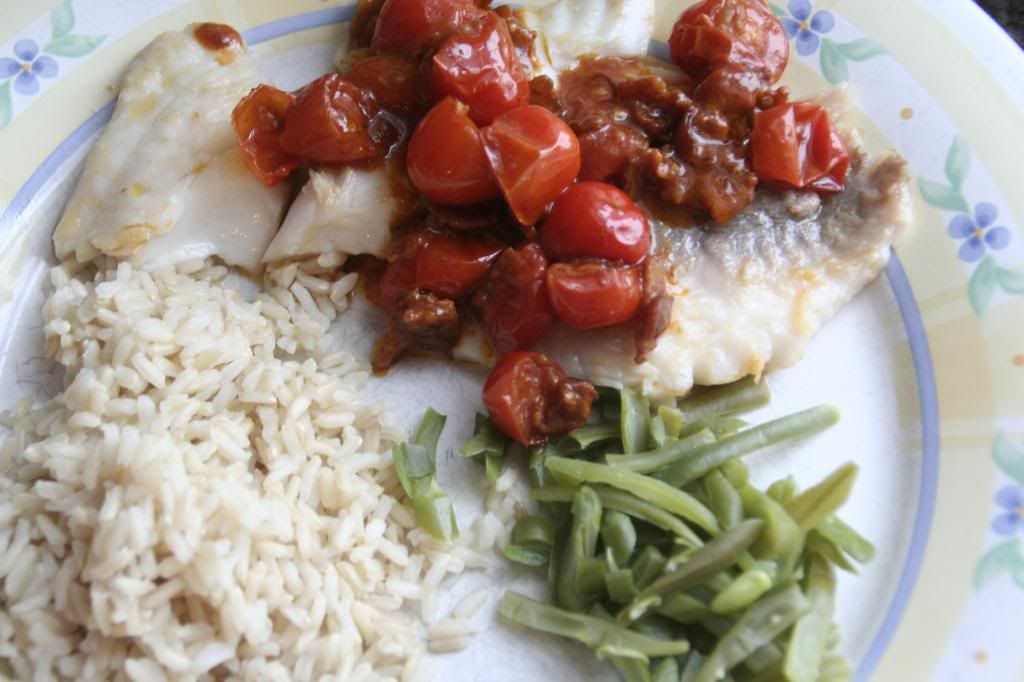 It's recipe swap time again! This time, the theme was seafood/fish. We love seafood, but my husband is not a fan of fish and I'm finicky about it, so it was with hesitation that I signed up to participate. I was once again given Jey's blog and knew it would be delicious since every thing I've made from her blog has been great!
I was thrilled that I received a tilapia recipe, since tilapia is so mild and not fishy, I figured it would go over well for all of us. The family commented on the smell of the cooking bacon, and the sauce smelled so good as it was cooking. Jey is right; this would be excellent over chicken!
So, it came time for serving. My husband commented (sarcastically) that it was not only fish on the plate, but also rice. I knew that no matter how delicious, he wouldn't be finishing his plate, and I was right.
My son and I, however, enjoyed this very much. The five year old dug in, commenting on how much he LOOOOOOVES fish. I was surprised that I was so full on what seemed like so little food; is fish known for being super filling? I've never found that to be the case when I eat sushi!!
So, this was not the huge success I'd hoped for, but it's not one bit the recipe's fault! The sauce is delicious and the fish was cooked perfectly. Tilapia was a great choice, but it would be super yum over chicken as well.
Thanks to Jey for again sharing a great recipe, and thanks to Sarah for being a great hostess as always. Check out her
blog
for the recipe roundup!
Tomato Bacon Butter Tilapia
Source:
The Jey of Cooking
Ingredients
2 Cups Water
1 Tbsp. Kosher Salt
2 tsp. Sugar
4 Tilapia Filets
4 Slices Uncooked Bacon, finely chopped (I do this with kitchen shears)
1 Clove Garlic, thinly sliced
1/2 tsp. Smoked Paprika
1 Pint Cherry or Grape Tomatoes, halved
2 Tbsp. Butter
Instructions
Combine the water, kosher salt and sugar in a shallow baking dish. Mix until dissolved. Add the tilapia and let stand 20 minutes.
Heat a medium skillet over medium heat. Add the chopped bacon and cook 3-5 minutes until almost crisp. Add the garlic and cook an additional two minutes, stirring frequently. Add the paprika and stir for 30 seconds. Add the tomatoes and cook until just softened, about 3 minutes. Remove from heat and stir in butter. Transfer the bacon tomato butter to a small bowl.
Return skillet to medium heat. Remove the fish from the water mixture and pat dry with paper towels. Cook the tilapia fillets 3-5 minutes per side.
Transfer the tilapia to plates, then top with the bacon tomato butter, about 2 Tbsp. per filet.